Zapier is a third-party platform that allows you to automatically export contacts from PeopleSmart to your preferred platform. Since Zapier is a third-party platform, PeopleSmart can not manage or troubleshoot Zapier performance.
Start your search for professional contact data
1. Log in to your PeopleSmart account and perform a search for professionals by name, title, or industry.
2. Select the Get Contact Info button for a professional in the results list to open their Report page.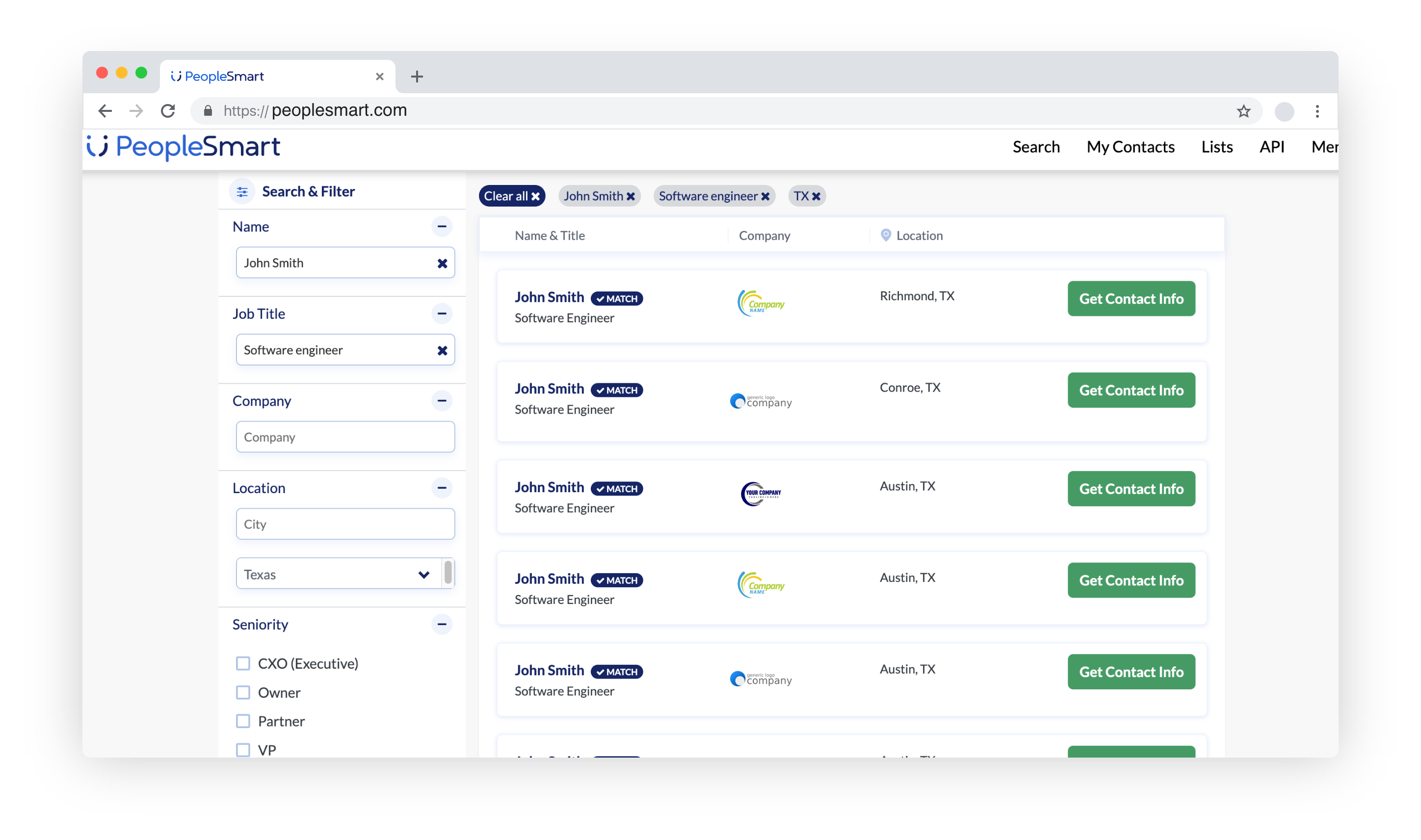 Now, let's pull Zapier into your PeopleSmart workflow
3. Open the Menu and click Apps & Integrations.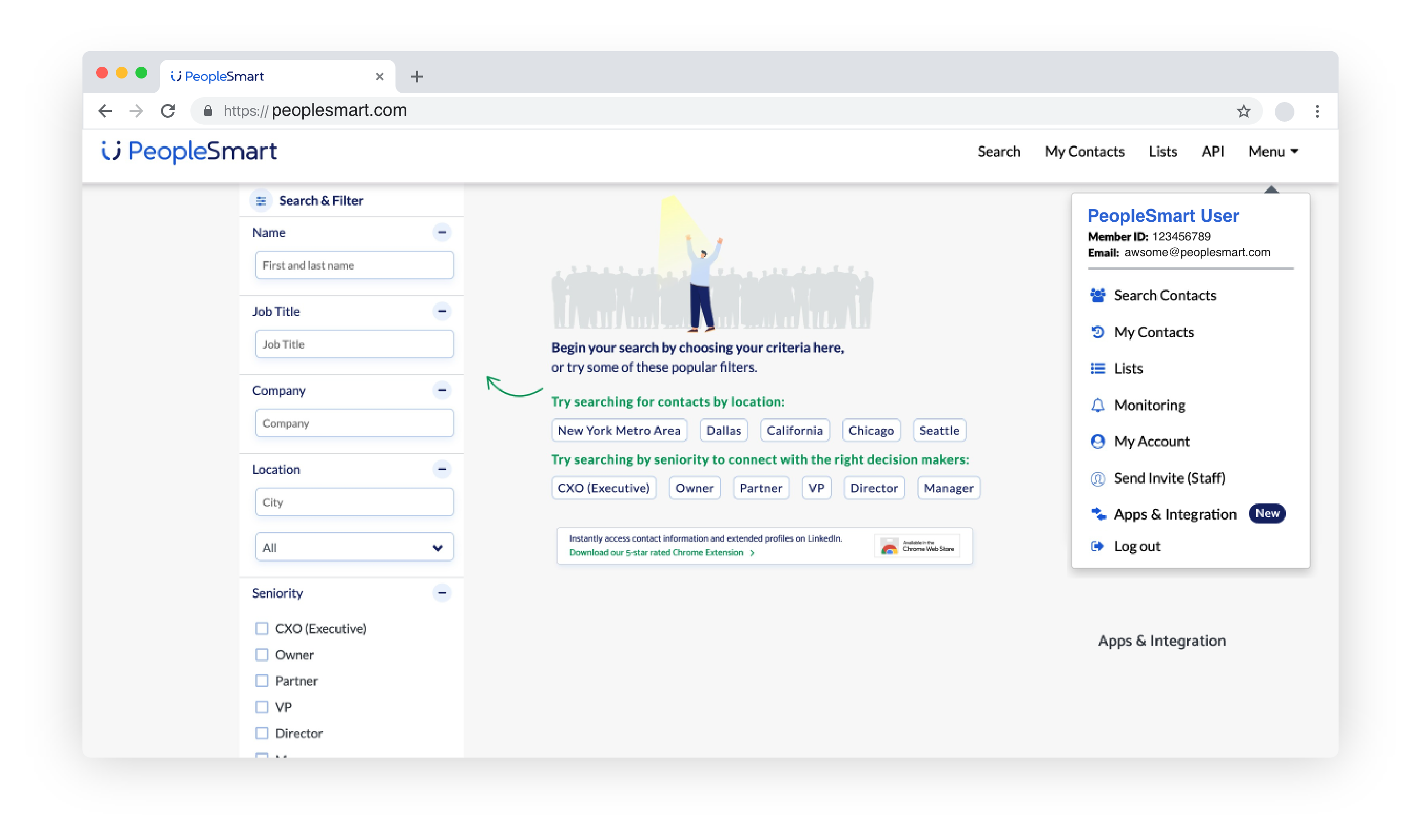 4. The Integrations window will pop up on your screen. Here, let's click the option labeled Add to Zapier.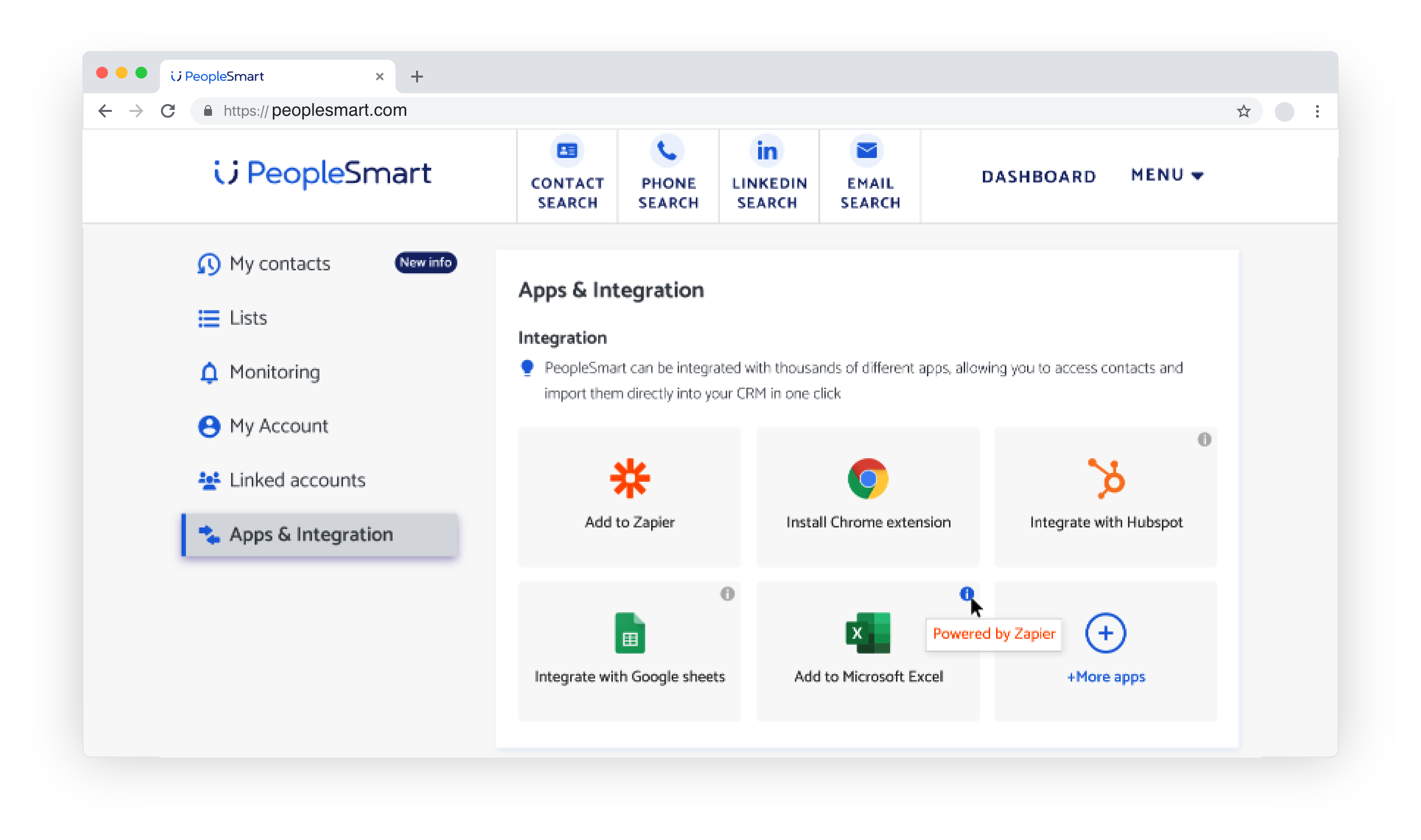 5. Sign in or create a new account with Zapier.
Your PeopleSmart plan does not include a Zapier subscription.
Create a Zap to cut time-wasting copy-pasting
6. First, select Create Zap. This will then take you to the Trigger window where you will establish a connection from PeopleSmart to Zapier.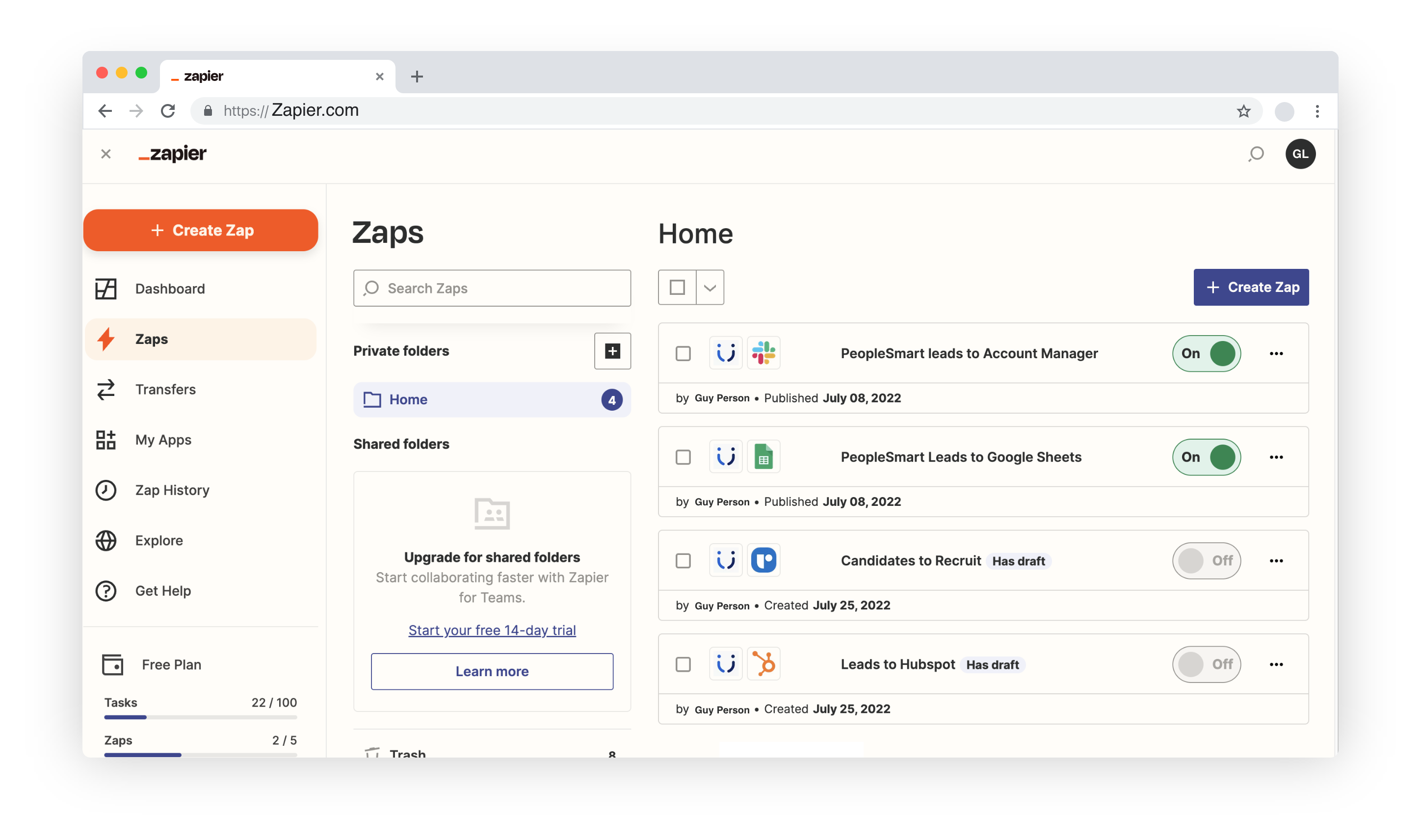 7. Type and select PeopleSmart in the App event field.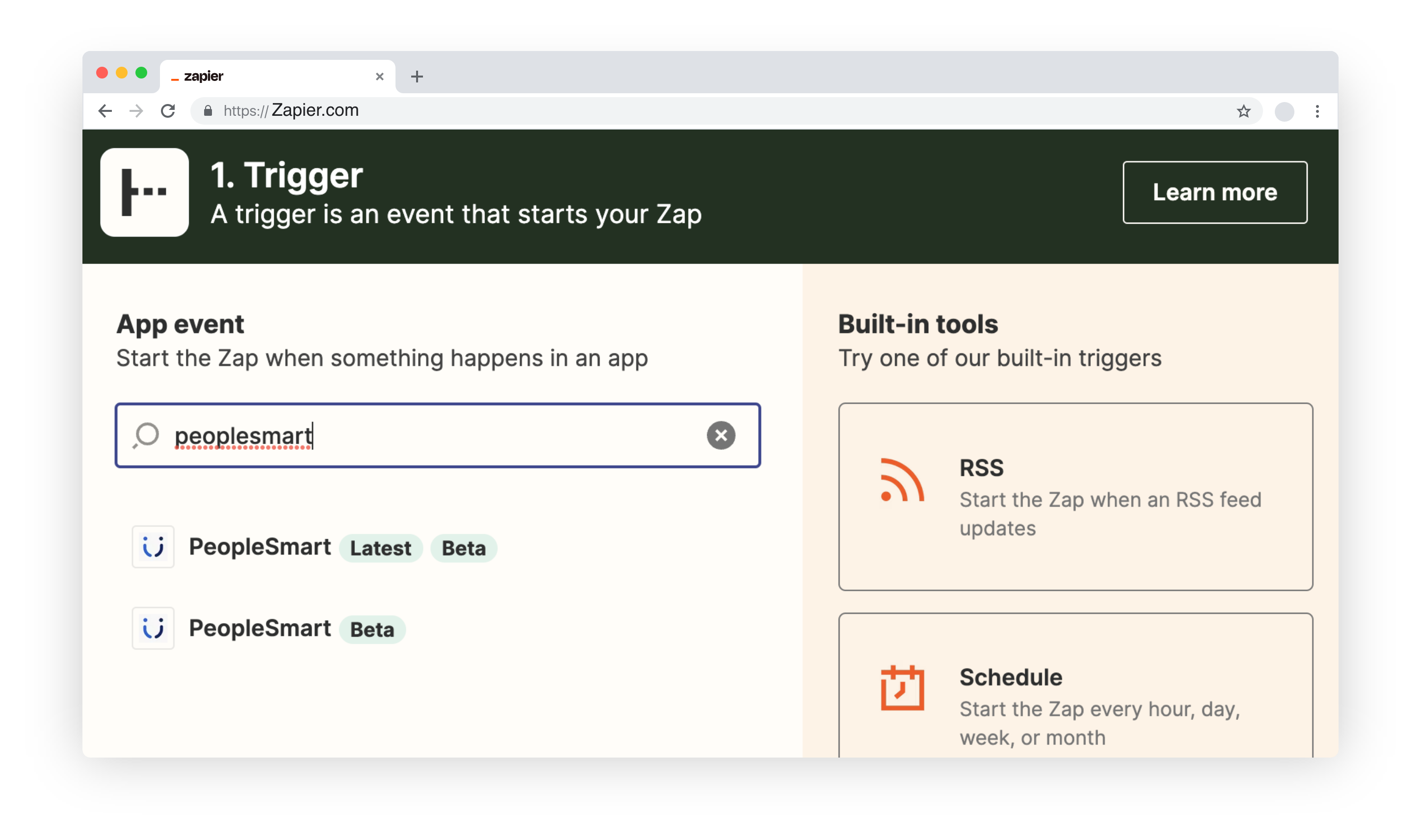 8. Then, choose the Event. Events are actions in PeopleSmart that tell Zapier it's time to do something. In this case, we'll select New Report.
Each time you trigger an event in PeopleSmart (for example, running a report in PeopleSmart), your Zap will be cued to get to work. It may take it a few moments to finish the job, but that's normal. The speed at which the automation happens is dependent on your Zapier account.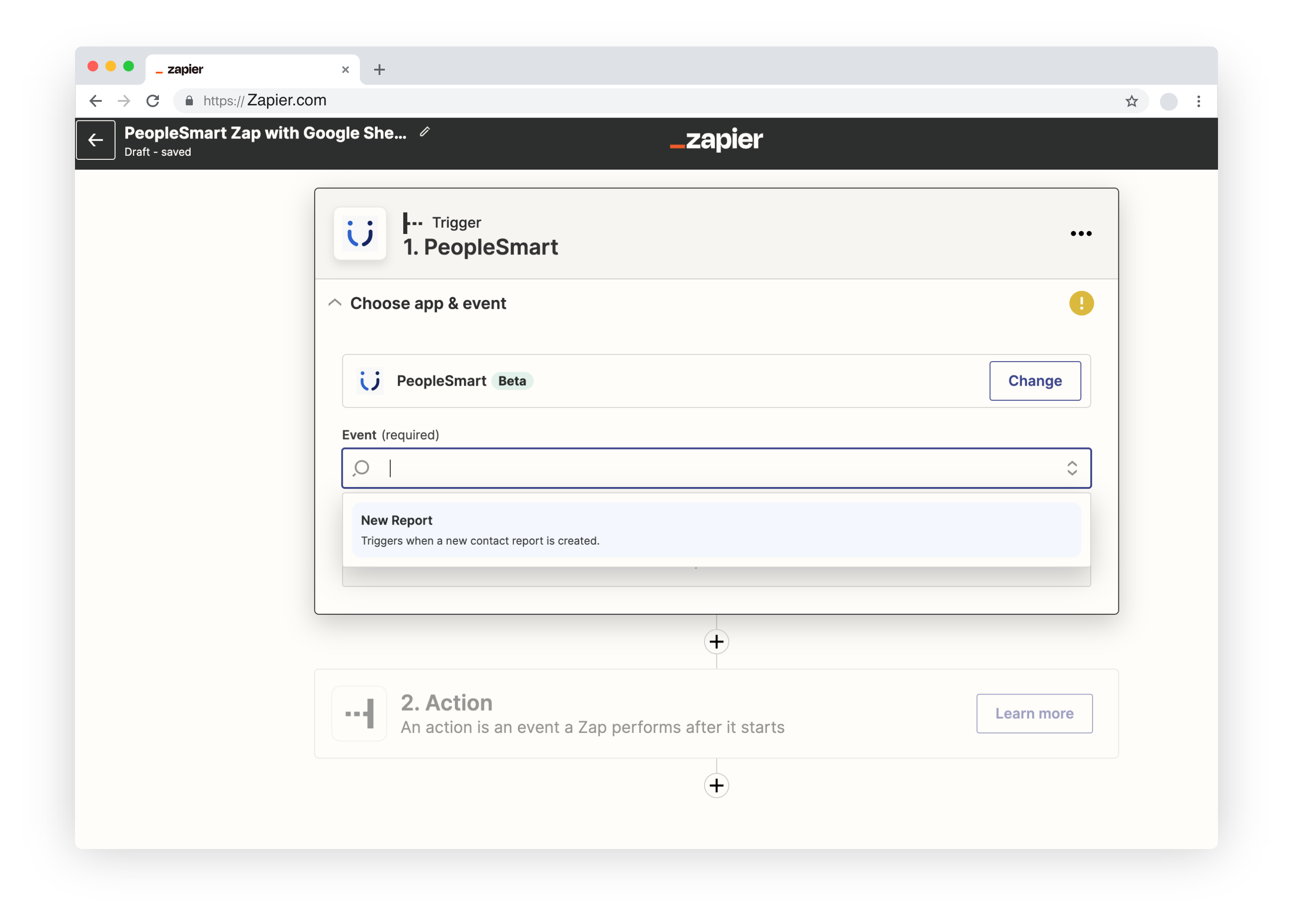 9. Next, connect your PeopleSmart account.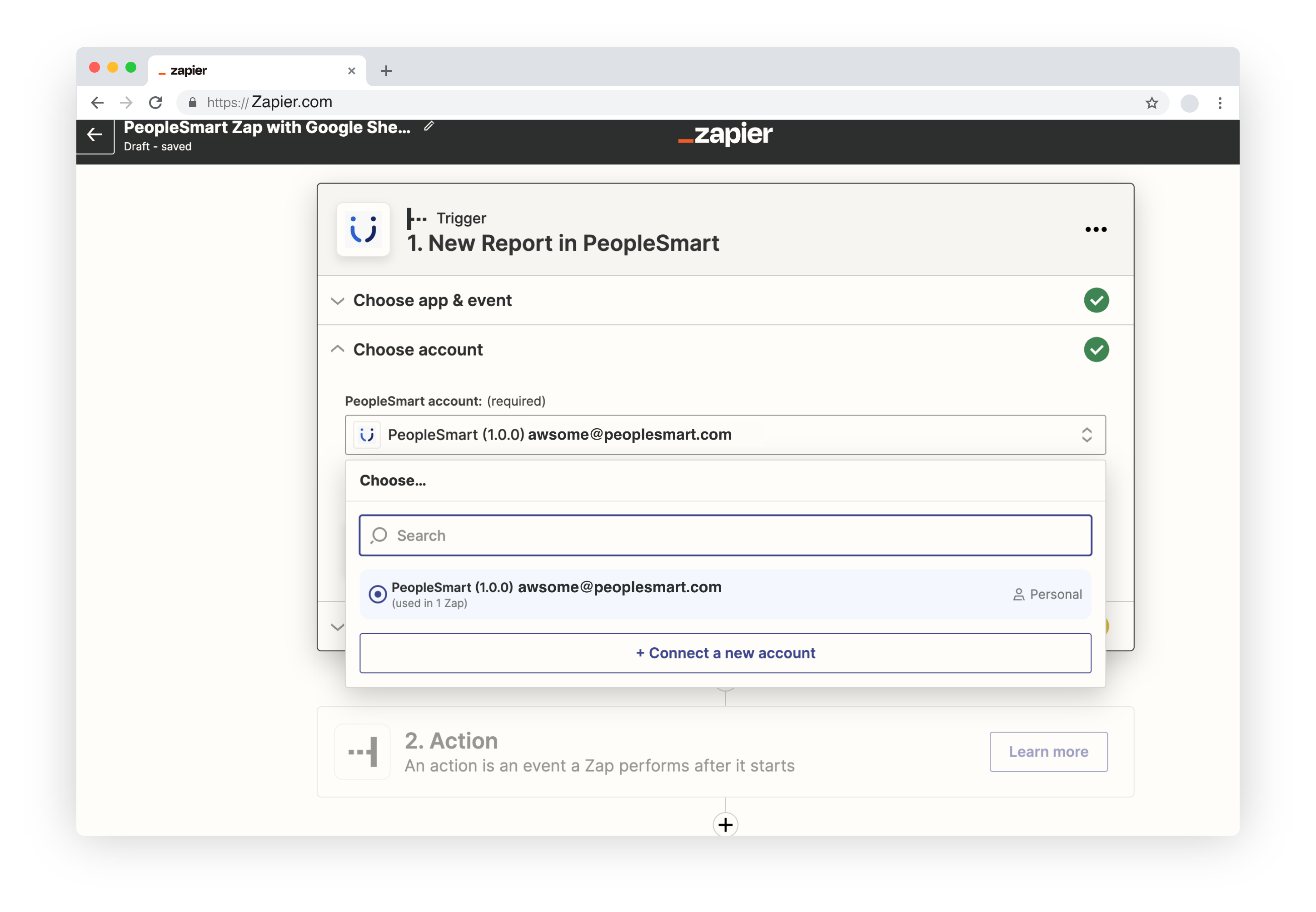 10. Before moving on, let's test the Trigger to confirm that everything is working as intended.
Carefully confirm these details and then click

Continue

to move on.
Designate where to store that New Report data
11. On the Action page, select the application that you'd like to pair with PeopleSmart. In this case, we'll choose Google Sheets to store our report data.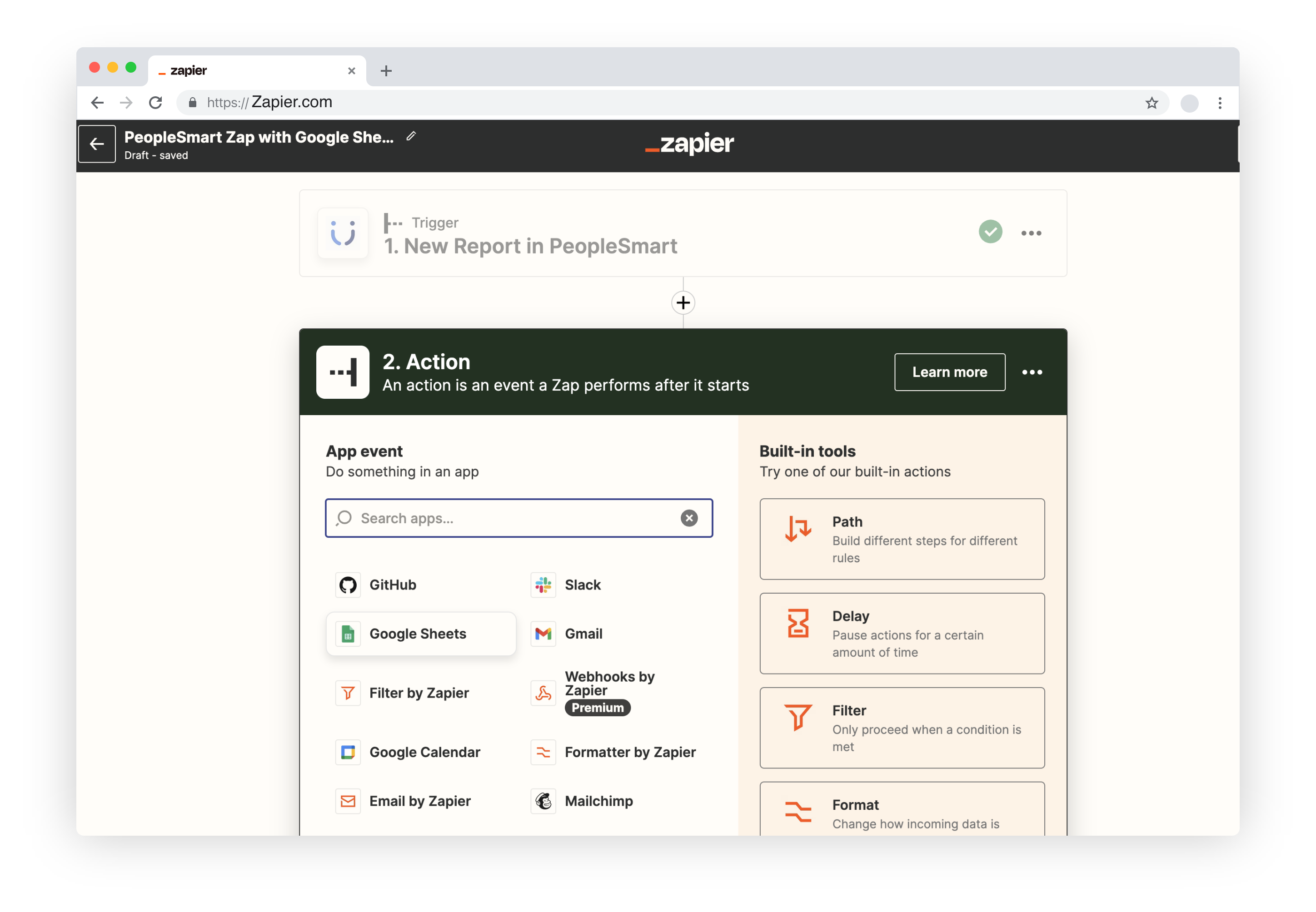 12. Choose the Event that you want your Zap to initiate in Google Sheets. In this case, we'll select Create Spreadsheet Row and then click Continue.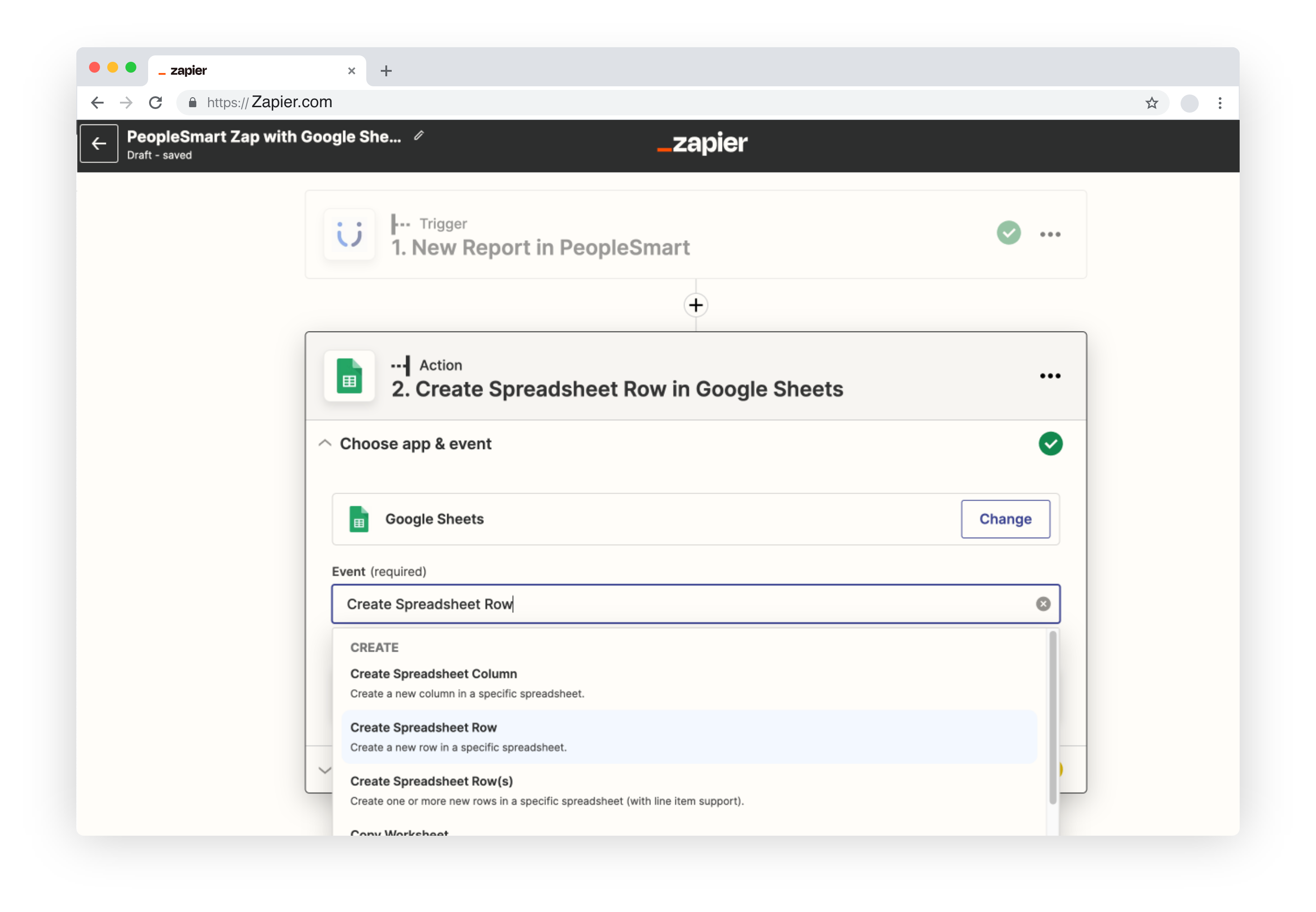 13. Select or connect the Google Sheets account you'd like to use, and then click Continue.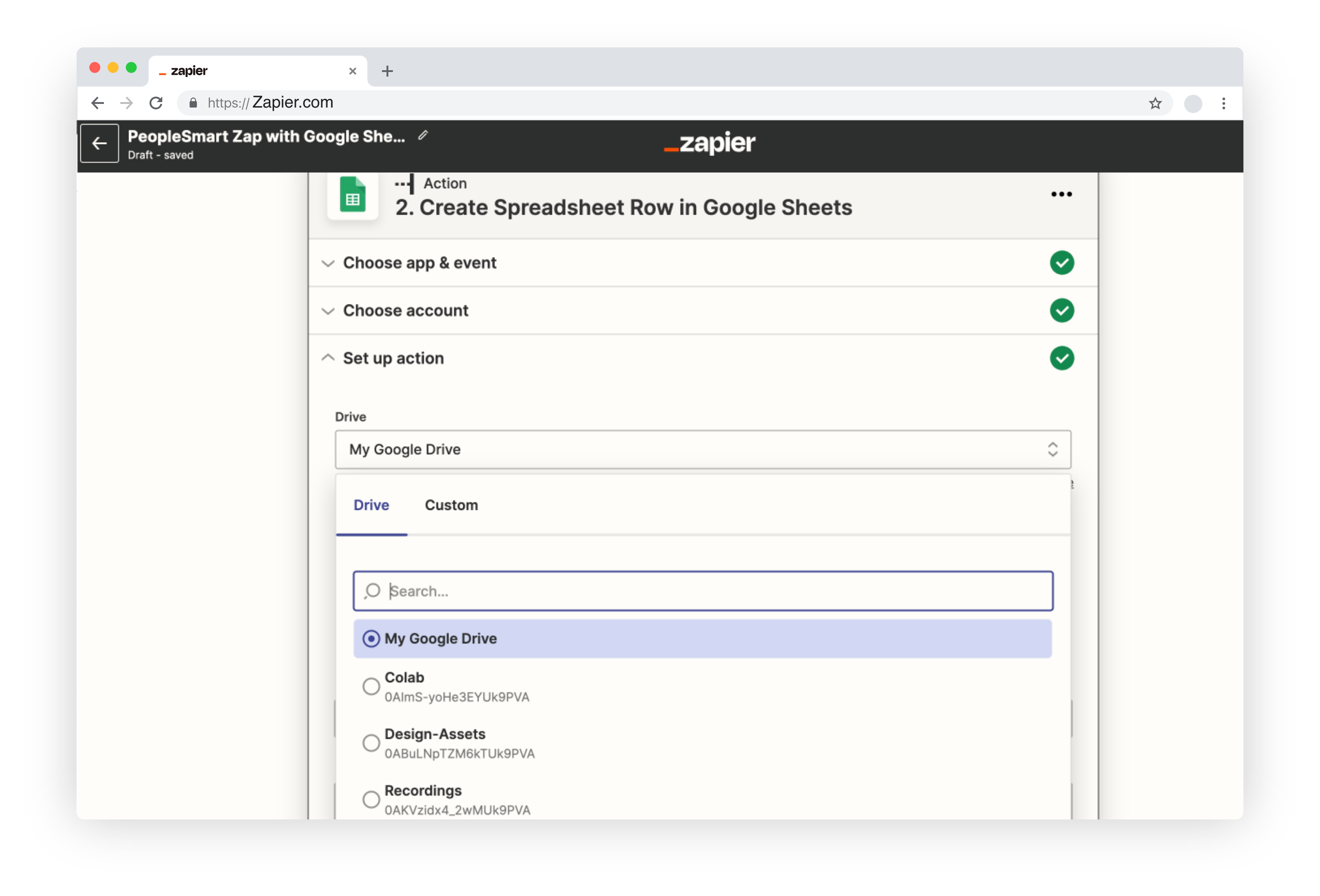 14. Next, select the save location and file where you'd like to store the data. In this case, we'll designate a specific worksheet in a spreadsheet on Google Drive.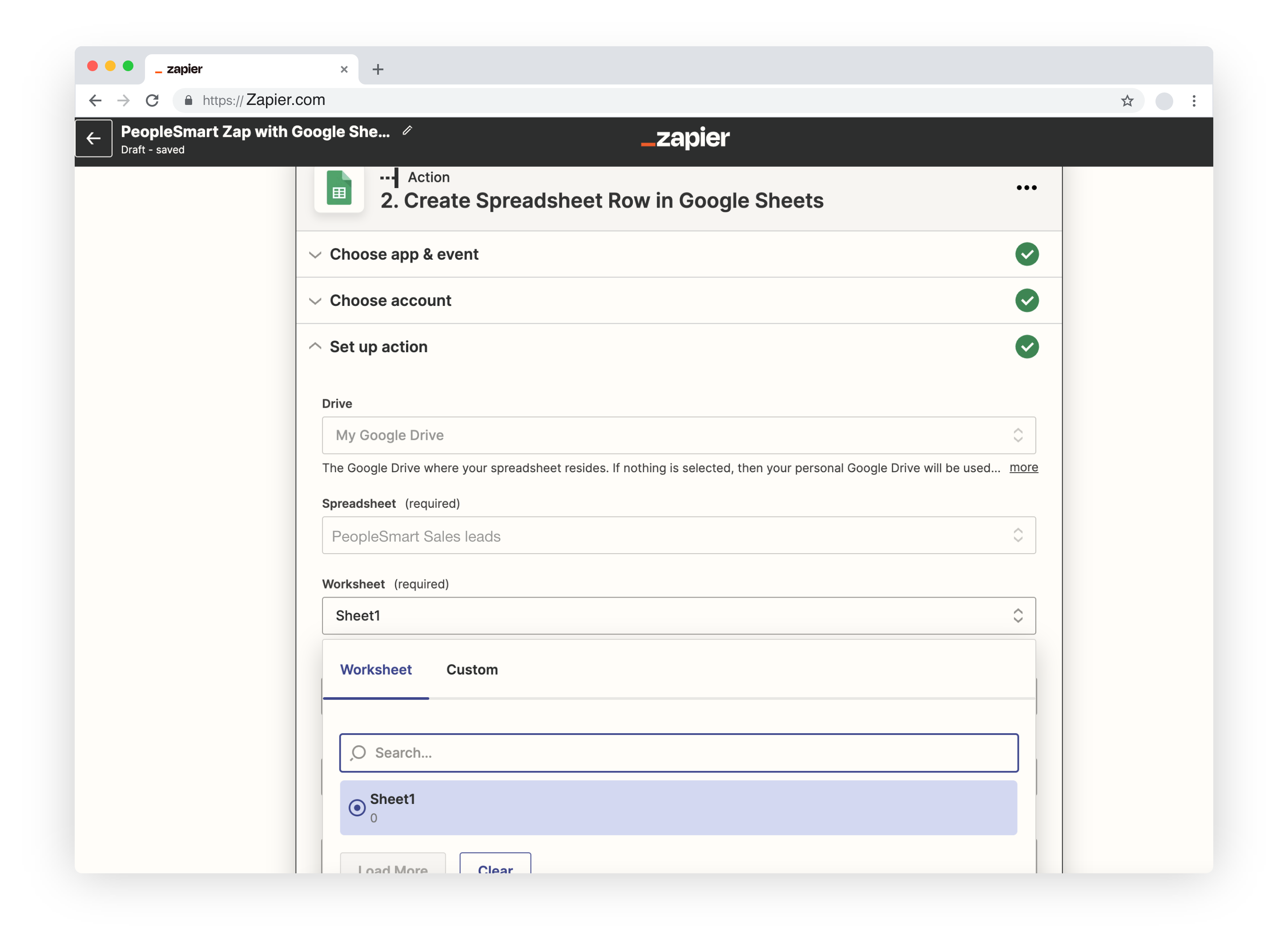 If you format your worksheet ahead of time, Zapier will pull your column or row names into its interface for ease of use.
15. Use the open fields to assign data from your PeopleSmart report to your target worksheet. You can either Enter Text or Insert Data to tell your Zap what to do.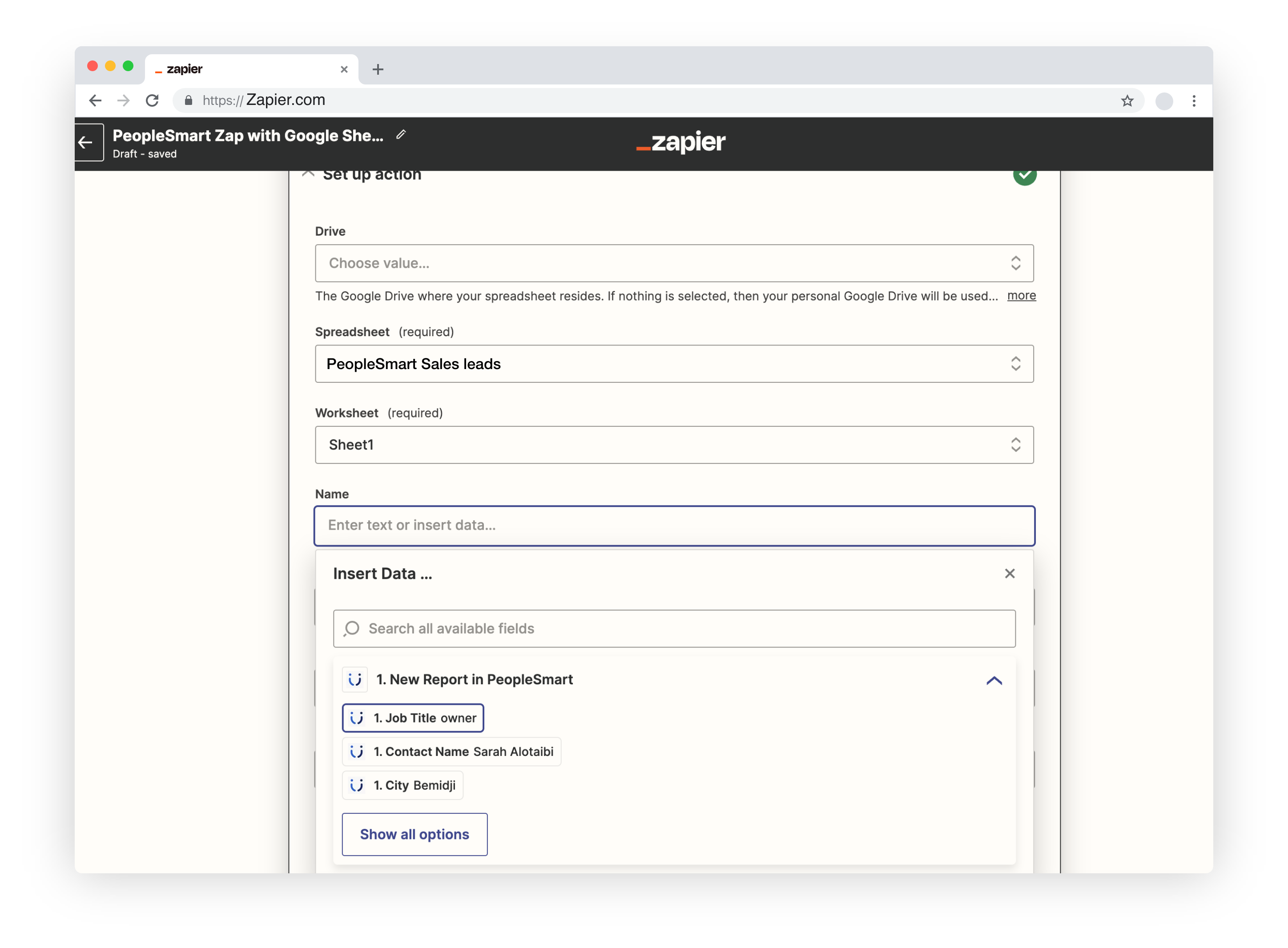 Note that the titles of the sections come directly from my Google Sheet. Pretty neat!
You can edit your Zap from the Zapier Home page. Simply click the … button to the right of the Zap name, click View, and then Edit Zap. Your Zap needs to be turned off to make edits, so just be sure to re-publish your Zap when you're done.
16. Once you're satisfied with your sheet formatting, click Continue to test your Zap's work. Click Test & review or Test & continue as needed.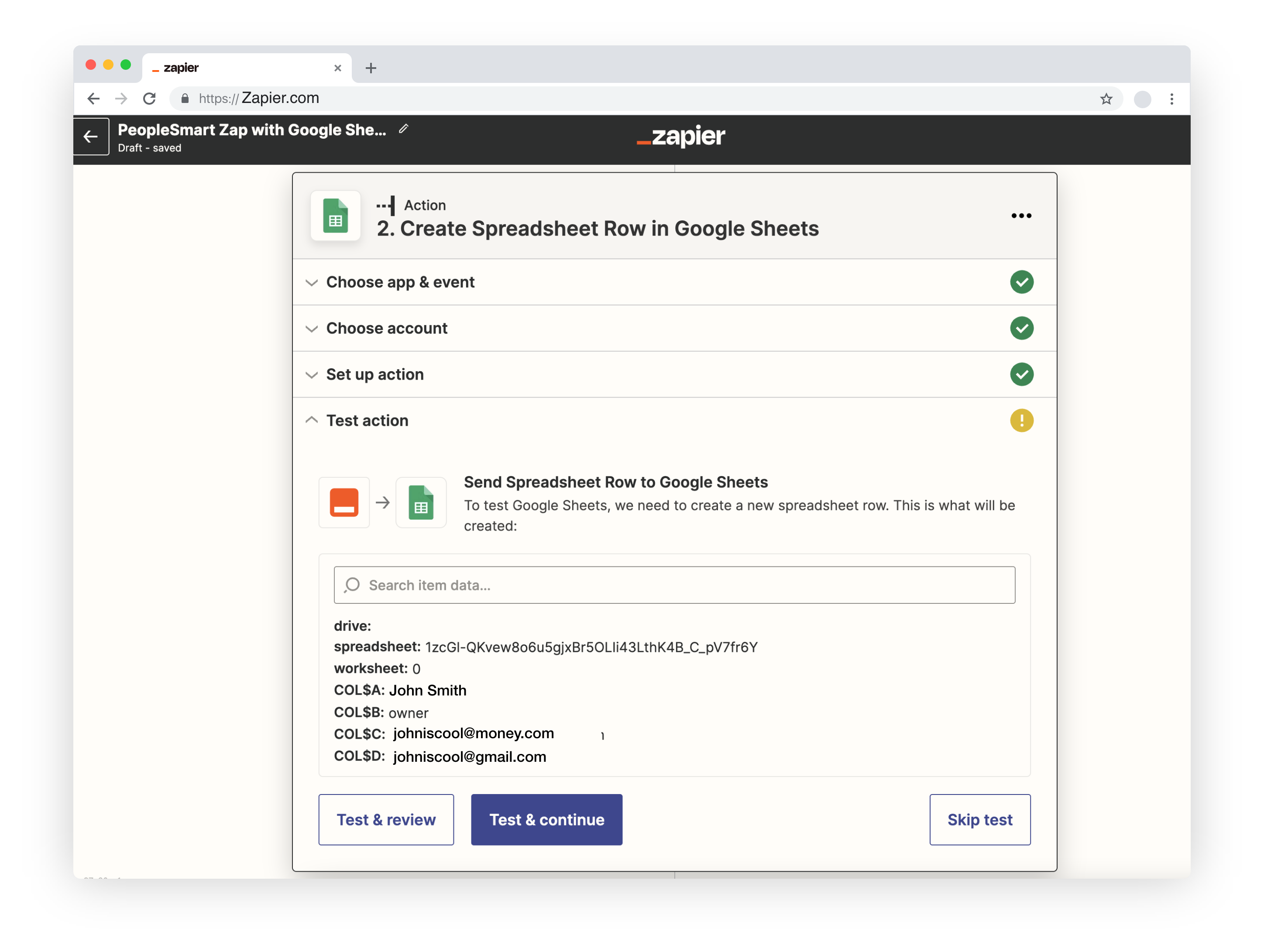 If we go to our Google Sheet, we'll see the sheet will have been updated!
17. Now that you've tested your Zap, you're ready to put it to work. Click Publish Zap and then Publish & Turn On.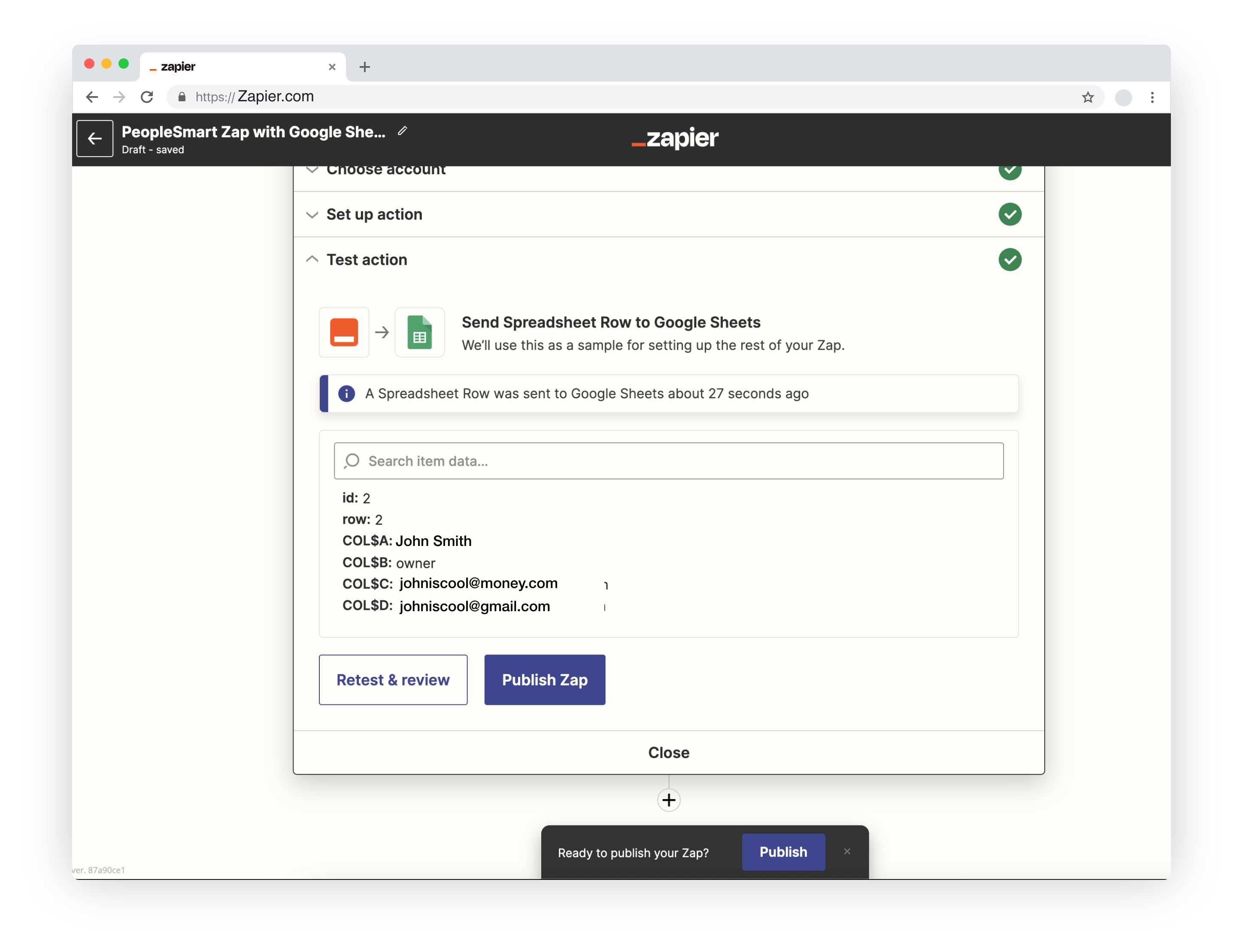 Be sure to keep track of how many Tasks and Zaps you've used as part of your Zapier plan.
Great job! You can also follow these steps to connect PeopleSmart with your preferred CRM, such as Salesforce, Hubspot, and many more.
Interested in more ways to save time and streamline recruitment, sales, and marketing workflows? Check out the PeopleSmart Chrome Extension for LinkedIn.
Looking for different triggers or a new integration? Give feedback on your PeopleSmart Zapier Experience here